Sluggo's Lair

... bringing underreported issues to light and giving hippies something to complain about since 1997.

My blog.
Oi gigs, pankration tournaments, and other interesting stuff in and around Seattle.
A thousand or so pictures I took during my travels
Workout / wrestling / grappling tips.
---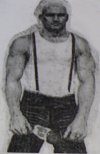 "Dogs are the great leveler. You see a dog being playful and your blood pressure immediately drops. You think you're so important and your concerns are so urgent, and you open the door and the dog says, 'Where's my ball? Who cares about you, throw my ball!'" --NPR radio show, The Next Big Thing: "The Truth About Dogs But Not Cats"
You gotta see these pictures of the Northern Lights in Iceland.
Yeah yeah yeah, you work on other people's websites and you never get around to sprucing up your own. Someday....