Friends
Home
Page updated 16-Oct-2007

Friends in Washington/Oregon/British Columbia
Bob in Seattle.
Jeff in Seattle.
Len in Vancouver, BC.
Storm in Vancouver, Washington.
Eric in Portland. He's the singer in Amadan, an Irish oi band.
Friends around the world
Dave in England.
Larry in Pennsylvania.
Rich in Jersey City.
Sam in San Francisco.
Fearless Steve "Little Dog" in Los Angeles.
(Apologies to those I haven't listed but I have to keep this page to a manageable size.)
---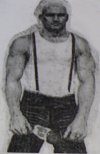 Sluggo is Mike Orr, a helluva friendly guy in Seattle. Email me if you have feedback.