Sluggo's Workout Pages
Home
Page updated 15-May-2007

"Do it for life! Seriously. You eat for life. You have to work for most of your life. You pay bills all your life. Exercise is the same."
That's what my friend John/JBoots challenged me in February 2000 when I asked how he'd gotten in such incredible shape [pic]. He said his secret was consistency: he'd been going to the gym and running three times a week every week for twenty years. My first thought was, "Rats, I asked for his advice, now I have to follow it!" I'd been lifting on and off since 1986 without much progress, but this time I was determined to be consistent, so I joined a gym and decided on realistic short- and long-term goals. Over the next few years I got into freestyle wrestling and yoga, tried boxing, and finally settled into submission wrestling. These pages attempt to distill what I've learned over the years, a cookbook of ideas.
I've also got a bodybuilding.com page where I'll be keeping a workout blog, stats, and progress pics.
current routine | goals | pics
The following pages are a year old so they're a little out of date. So shoot me. I'm updating them one by one.
calisthenics | weights | stretching | aerobics | food | supplements | sleep | quotes | testosterone (background) | testosterone boosters | links
[Note: no navigation links yet. Use your browser's "Back" button to switch sections.]
Feedback is welcome.
---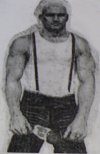 Sluggo is Mike Orr, a helluva friendly guy in Seattle. Email me if you have feedback.