Here are some pictures of me over the years, and some friends and net pics that resemble my workout goals in some way or other and inspire me to workout harder. Click on any thumbnail for a larger image.
Me
2009
2008
2007
2006
2005
2004
2003
2002
2001
A year after I started working out seriously.
2000
Six months after I started working out seriously.
1999
1998
That looks like a Transformer doll, haha.
1995
Ugh, was I really that stick thin then? Lose the mustache, dude!
Friends
Some friends who resemble my workout goals and inspire/challenge me, due to their strength, appearance, and/or ass-kicking ability.
---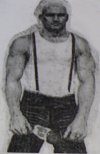 Sluggo is Mike Orr, a helluva friendly guy in Seattle. Email me if you have feedback.